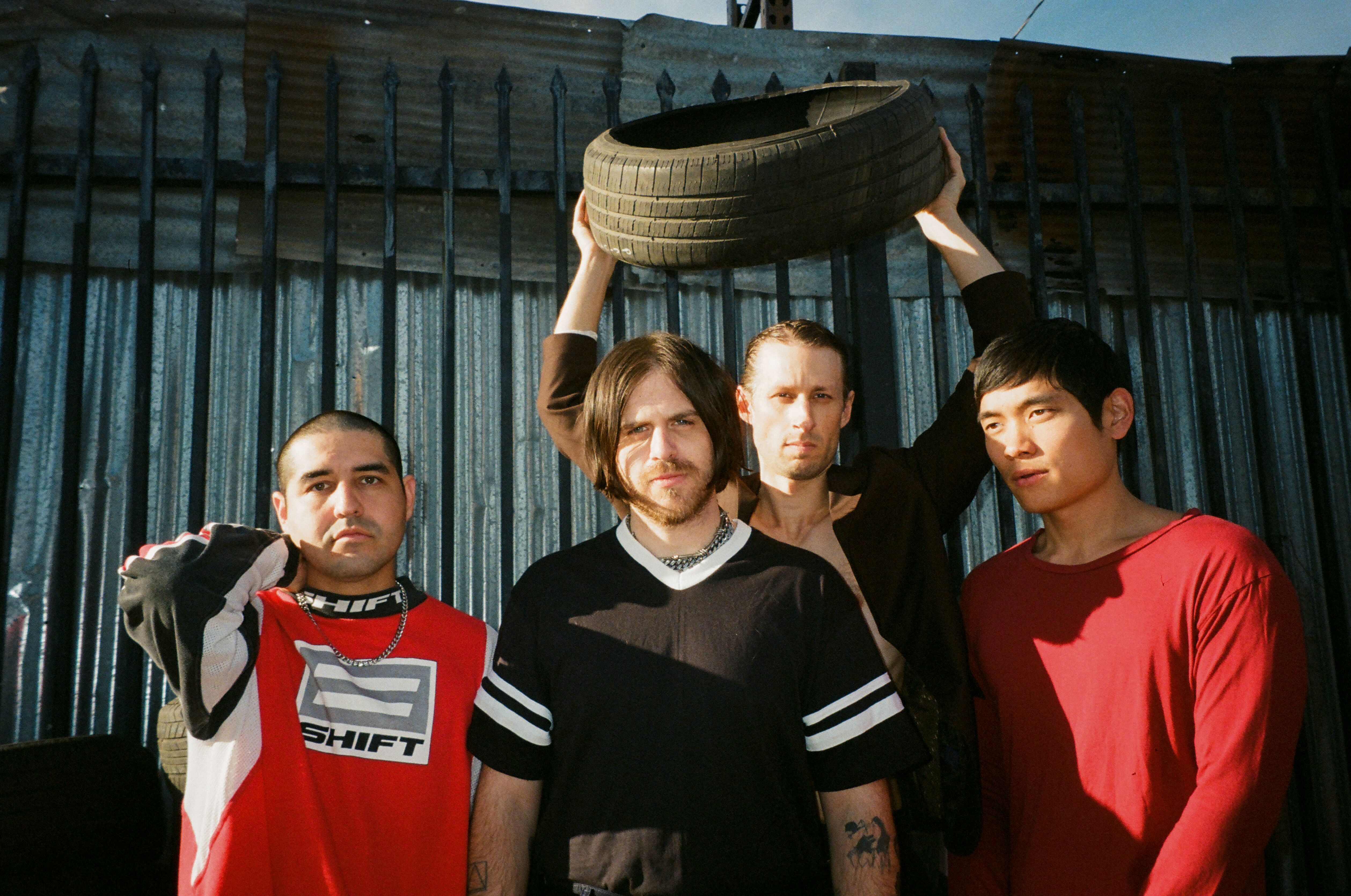 ---
ABOUT
By 2017, Meatbodies frontman Chad Ubovich had reached a crossroads. After years of increasingly insane shows playing to heaving crowds with an ever-evolving and rotating door of personnel, fatigue had taken its toll and Ubovich realized another change was on the horizon. "It was like the car had run out of gas in the middle of the road, and I knew I had a long walk ahead of me." Retreating to the seedy Los Angeles underbelly– in search of meaning and a reset. Ubovich escaped into that world, ignoring his own well being, trying to forget his successes. "I was living like a 90's vampire out of a comic book. Stumbling around LA with the socialites, partying away my sorrows, trying to forget."
It was at this point that Flora Ocean Tiger Bloom began to take shape—a project built by a man searching for new beginnings and his own sense of self. After sobering up, writing sessions began at Ubovich's home and various studios with longtime collaborator Dylan Fujioka. Eventually, the official production for Flora began in 2019, but it was a story left on the editing table. Due to discrepancies with the studio, tensions were high and the plug was pulled. Left with an album only half baked, it seemed like Flora had been put to rest. After the fires cooled and many discussions about the future of the album. Ubovich finally got the green light to finish production for Flora in 2020 when he hit another snag– the pandemic. And as the world took a back seat, so did the idea of Flora Ocean Tiger Bloom.
Not wanting to sit still at home, Ubovich began to comb through his previous demos with Fujioka while writing for Flora. And with that, 333 was born, the now de facto third Meatbodies LP. Yet Flora was never far from Ubovich's mind and once again he revisited the idea of completing the now fabled album. As restrictions started to lift, Ubovich headed to Gold Diggers Sound, backed by engineer Ed McEntee and a team of colleagues and friends, Ubovich completed the final act to the album, but he still wasn't quite out of the woods just yet. He now faced a new crisis, one that proved to be more terrifying than any before: his home that he had spent the last 8 years in had been deemed uninhabitable and he wound up in a hospital bed where he spent the next month of his life.
Having to not only learn to walk again but also learn to play again, Ubovich used an upcoming tour with his band FUZZ as a motivating factor and hit the road for a year trying to regain a sense of normalcy. By the time Ubovich returned from tour he was centered and energized, ready to conquer his white whale– the borderline lost album. The mission was finally a success. Armed with a new home and a new studio - The Secret Garden, Ubovich mixed the album himself, looped in Brian Lucey at Magic Garden to handle mastering, and Flora Ocean Tiger Bloom was completed, five years after those fateful demos with Fujioka. "A lot happened with this record- It took me five years, I was out of a band, I had a drug problem, the album almost didn't happen, the pandemic made it almost not happen again, and then in the end I almost died in the hospital, lost my house, and had to learn to walk again. It's been quite a road, but I could not be more thrilled with the final output. I guess the juice was worth the squeeze?" laughs the Meatbodies frontman.
And so here we are, with Flora Ocean Tiger Bloom, an album completed by an ironclad will and steely determination. It's also Meatbodies' most ambitious, varied, and realized record to date—and possibly their finest hour. A massive step forward, both by conventional standards and considering its tumultuous path toward completion, the album is finally set for release on March 8, 2024 via In the Red Records. The LP recalls the searing Blue Cheer-meets-Iggy Pop-with-psychedelia that permeated previous releases, but adds new elements of shoegaze, classic alternative, Britpop, drone, and hints of country—blazing trails without ever sounding forced or alien. Simultaneously an ode to '80s Los Angeles punk and the rise of indie/alternative music in the U.K., Flora Ocean Tiger Bloom plays like a radio station broadcasting from the void, with a cosmic playlist of early Pink Floyd, Ramones, Roky Erickson, Kinks, and Spacemen 3. And while those names may seem outwardly disparate, Ubovich crafts a distinctively Meatbodies arc among the songs, creating an eclectic and unmistakably cohesive piece of work in total. It all adds up to an effort that shows strength in its diversity, which is only secondary to its impeccable songwriting.
Besides the obvious themes of redemption, reinvention and resurrection that not only accompany the record, but its production as well, Flora Ocean Tiger Bloom examines themes surrounding love and loss, escapism, defeatism, hedonism, psychedelics and much more. "The last record was more of a cartoon version of who we were– simple and fun without delving into heavy concepts," recalls Ubovich. "The whole thing before with Meatbodies was never sit down, next part, next part, but I wanted to make something with more depth. After everything that had happened, and my personal life, I was left with this feeling of emptiness and loss. So I wanted to make music that was absent from things– songs that were more about conveying feeling."